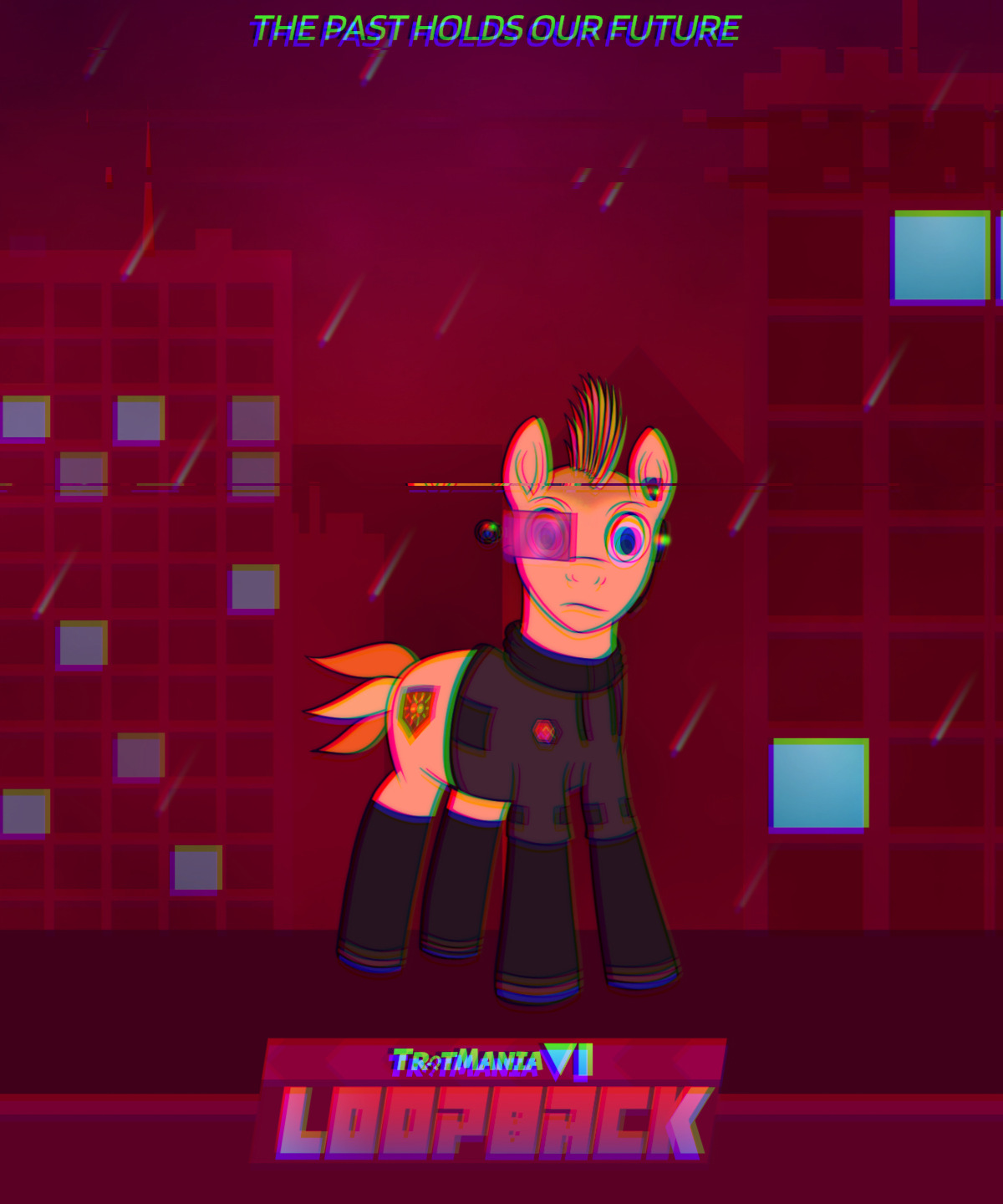 If you missed the stream earlier, the cat's out of the bag: TrotMania VI: Loopback is our next installment. We're still in the planning stages of certain aspects, so I'm not going to reveal everything right off the bat, but there are some things I can talk about.
First and foremost, our theme is basically cyberpunk, and that is definitely not the Sun Beamer you know and love (in fact, that's not even his name! But more on that at a later date). Secondly, this will be the first TrotMania to be built around the latest StepMania release in development, 5.3; it is only appropriate, given that it really is that much of an improvement in terms of performance and functionality over existing versions.
In terms of content, we're planning on doing some rather major changes. Some things will remain similar to how we've done things before, but we will be trying a few new things for VI:
New challenges
"So they're taking other worlds, corrupting them, and using the results against us…"
Alongside our standard difficulties (which will remain as they are in terms of style), we are planning to include more themed, alternate charts that, hopefully, will be more more varied and technical than what you're used to.
We are not just here to dance…
"Another thing apparent is that they have a wider variety of tactics than what your counterparts had to deal with."
StepMania is primarily known as "the DDR simulator", but it can do much more. Through community contributions, we will be accepting charts in other game modes are being added or refurbished on 5.3, including 5-panel, guitar, drum, etc. This will apply to both TM VI songs, as well as earlier songs too.
Solidarity
You might have noticed the reference to "community contributions" under the last heading. In comparison to past editions of TrotMania, we are going to be opening up the development process a bit more. We're a community that's part of much bigger communities, so it's only appropriate that you should be able to join in on the fun as well.
There will still be parts that will remain a surprise until we specifically unveil them (including the theme itself, some of the songs, etc.), but we are planning to have a formal process for openly submitting/vetting content — music, charts, etc.
Expect more information on all of these aspects over the next little while as things are ironed out and set up.