Given my position in the StepMania community, this was bound to happen eventually. The canon is now "Cannon"; a real-working noteskin that immortalizes the proof that dance games exist in the MLP universe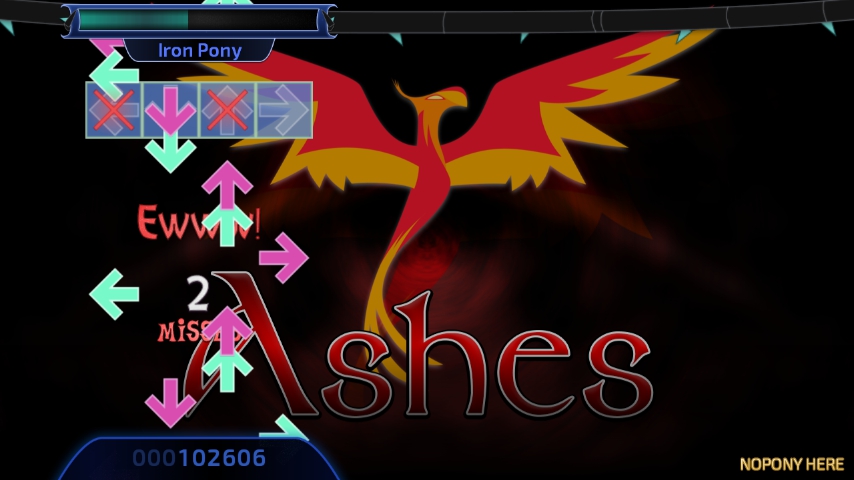 Featuring real-working X signs for misses! I tried to keep it faithful, but with some adjustments to that it actually is somewhat playable (but do note, this is basically intended to be a novelty).
It's so ridiculously awesome that it requires a version of StepMania which is not even out yet; specifically, StepMania 5.1 – the version which Euphorius is being built in mind for. Though, there is an official alpha build, StepMania 5.1.-3 (pronounced "5.1 minus 3". It's a negative release, basically.). The noteskin system on 5.1 was re-written, and has some new capabilities that were leveraged to create this. I am not yet sure if this could be ported to 5.0 without compromising the authenticity.
tl;dr I made an emulation of the dance game from the new episode for StepMania. You'll need the new unstable version to use it though cause it's just that awesome. If you're willing to adventure into the magical realm that is SM 5.1, be forewarned that while your songs will still work, existing themes and noteskins from 5.0 won't without modifications due to its internal changes (But does it even matter? You're most likely downloading it just so you can try this particular one out). Cannon will be bundled with Euphorius as well.
Before we get to the download link, however, we must also address the implications of this specific screenshot. Yes, the TM III theme is being ported to SM 5.1, and will be publicly released when 5.1 is closer to a final release (but we are seeking testers, inquire in the linked forum thread). Also, hold on… is that a new song too?