In case that previous post, with allusions to a certain game that is of a much larger size than the usual game, wasn't obvious enough, the moment is finally near: TrotMania Euphorius releases this Sunday, about 48 hours from now (or so)!
We've all been waiting in anticipation for this moment, and so have you. This weekend, roll out those soft pads. Drag out your metal pads. Get out your PS2 USB adapters (does anyone know a good brand that works on Windows 10 64-bit?). Or get one of those fancy mechanical keyboards with the LED lights that you can light up in any colour you want (they're pretty good!). And of course, get StepMania 5.0.12 installed if you don't have it yet (You already should, though. Side effects of not doing so include not being able to know how well you did. So there.)
Of course, the most appropriate way to launch such a pack is with a full-on dance party! We have teamed up with our partner, PonyvilleFM, to bring you a six-hour marathon of shows on Sunday night featuring me, fellow team members InklingBear and Nazo (the latter as part of their Sunday-night show The Challenger), Midli, and Willow.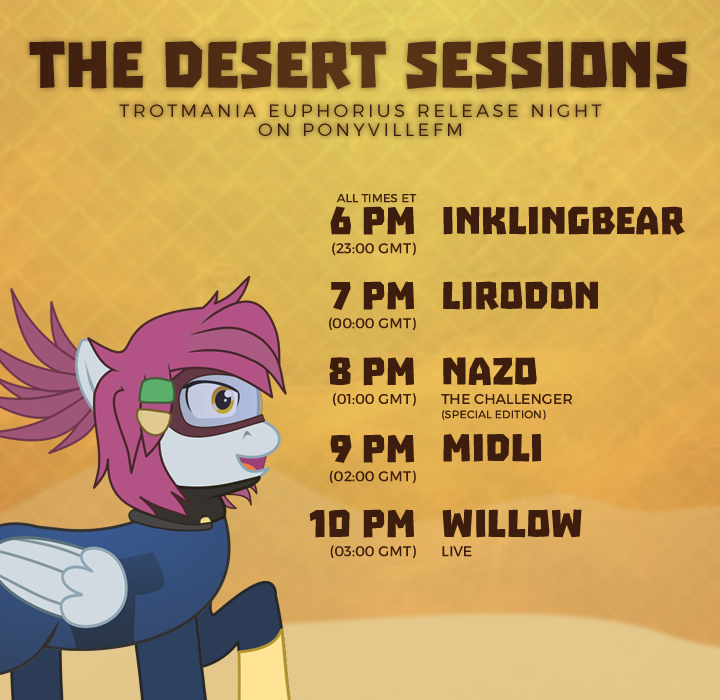 The official release will occur sometime on Sunday, likely during this event. But keep checking back throughout the day, because we might just surprise you out of nowhere too.