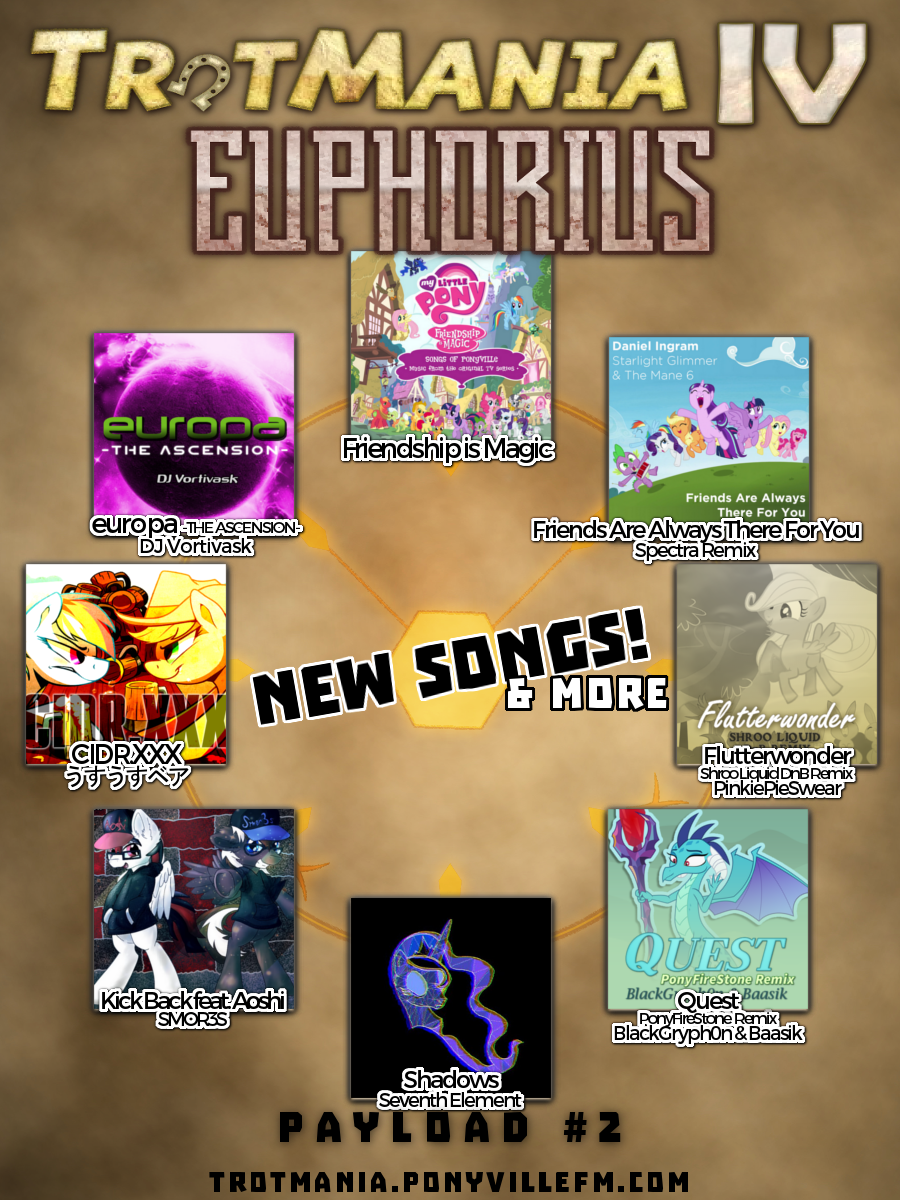 Just a few days ago we revealed one of the key tenets of this Payload's content, the musical episode completion. However, that's not all that's up our sleeve: we've got a whole 8 other songs waiting for you to try out!
Hailing from the show, we have…the show theme! Yes, the Alex S. remix has been in the series since the first installment, but now we have the actual extended version of the theme tune stepped for the game. It's no slouch either, with a wicked little level 13 to keep you on your toes, perhaps literally!
We have a brand new composer making his debut in the series. Though he goes by many names, DJ Vortivask is the title he's taken for this endeavor, a pumped-up little track called europa -THE ASCENSION-. The song is also making a dual appearance in fan project DanceDanceRevolution SuperNOVA3, with a different mix and slightly different instrumentation. This particular version has previously appeared in a step contest called the Zenius-I-vanisher Battle Royale that got our very own stepper

RIME

to qualify for the next round!
We've culled another remix from the fandom, this time from Spectra, making his first appearance in the TrotMania series. His remix of Friends Are Always There for You is quite the energetic one, with even a neat little piano breakdown that gives dancers a chance to both cool down and get thrown off thanks to the tempo cut!
Aoshi makes his TrotMania debut (under this alias; he previously appeared as "Hanna & Hiffa" on One Dark Mare) off a featured credit on SMOR3S' song Kick Back, an aggressive trap track. This simfile was originally featured in the series PonyMania, created by step artist Calena, who is currently a part of this project. It has been adapted for TrotMania (as the original PonyMania was geared to keyboard players and thus flow had to be recalibrated, and had certain elements partial to hardcore/keyboard players like 3+ notes, jack notes, and individual mines depending on the song) and been given new graphics.
BLACKGRYPH0N & Baasik make another appearance in this game, and once again it's a remix, this time by PonyFireStone, another new face to the series! Quest appeared in the last game, Aeternum Obscurum, and this remix has more of a house vibe to it, and the charts are rather varied. The level 12 is especially wicked with the jumps!
Seventh Element is yet another new act to the series, getting his song Shadows into the game. Once again, this hails from a contest, though not the Battle Royale: instead this was in the Zenius-I-vanisher Simfile Shuffle, a contest in which a stepper writes charts for a song provided by another member. In this case, the stepper who's given his approval to appear in the game is ledgam3r1279 who was given this song to step by our long-time team member InklingBear (a.k.a. fractilx). These charts are relatively straightforward in their flow, but all are guaranteed to give you a nice stamina whooping!
Two songs from the Pyrosentric Extra Stage system are now available for play in normal modes: these are

CIDR

.XXX and Flutterwonder (Shroo's Liquid D'nB Remix). They retain the unique visuals provided to them in the mode. In addition, the regular Extra Stage from the initial release, Something in the Cookies is also available for regular play! These songs still are part of their respective systems, because there's more where they came from…
We hope you enjoy the patch when it comes out imminently!