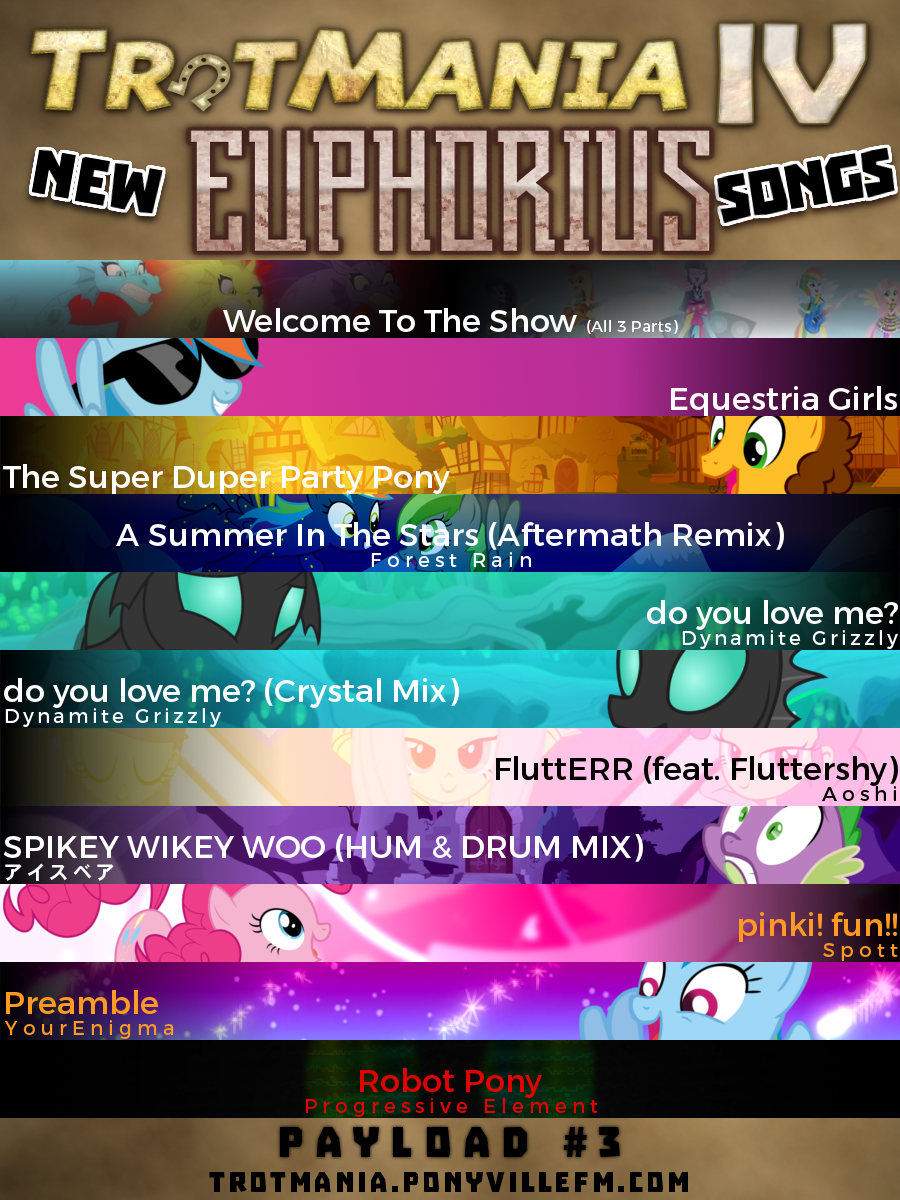 After a couple of months, we're proud to announce the latest update to TrotMania is now available! Loaded with a baker's dozen of songs along with a bunch of other goodies, this one's quite meaty. Let's look into our main entree…
New Tracks
New Showtunes
Equestria Girls
Starting off our show tunes set for this update is Equestria Girls, from promotional Hub material. Remember those? The station went all out with original material like songs and exclusive animation to advertise their repertoire. In this case, they pulled from Katy Perry's massive hit (that was pretty recent when this cover came out) and incidentally tipped their hat to the bronies explicitly for the first time with a lyrical shoutout. This set of charts comes to us from the Zenius-I-vanisher community, written by Suko and adapted for this game with permission: certain elements like mines and 3+ note jumps have been written out, and there is both a brand new Beginner and Challenge chart, courtesy of resident stepper InklingBear!
The Super Duper Party Pony
Hailing from the Season 4 musical episode Pinkie Pride is The Super Duper Party Pony. This episode has been represented in the previous game with the Goof Off, and like that track, once again the vocal talent of Weird Al Yankovic graces the game, as the manic rhythms and pace goad you on to getting that new high score! These charts were written by InklingBear.
Welcome To The Show (Music In Me, The Battle, The Music Survives)
Getting us one step (or rather, three steps) closer to finishing Rainbow Rocks' musical repertoire is Welcome to the Show, presented in-game through 3 parts. This crazy piece runs the gamut of genres, starting off with a post-grunge-esque waltz, moving to more standard 00's-style pop-rock, then to symphonic metal, finally bringing the house down with some 10's-style anthem pop! It's a feast to experience as a whole, and there is something there to help you that shall be elaborated later on. All the charts of these 3 songs were written by

RIME

.
New Brony Songs
do you love me? & do you love me? (Crystal Mix) / Dynamite Grizzly
New from Dynamite Grizzly are two variants on a track: the original do you love me?, and do you love me (Crystal Mix). These techno tracks have that certain 90s underground feel to them that's rare to hear in the mainstream, even in Europe where more conventional 90s dance styles have been resurging. These charts were all prepared by InklingBear.
FluttERR (feat. Rina-chan) / Aoshi
One of the biggest brony hits of 2016, and one of the biggest brony-related videos ever produced by the fandom, finally gets representation in the game as FluttERR by Aoshi makes it to the game. After getting repped earlier with Kick Back (a PonyMania port), now the rapper finally has a newly crafted simfile in the series. Originally released in 2013 and featuring the vocals of Rina-chan, this trap-flavored track provides a fair challenge.

RIME

wrote the Beginner, and InklingBear wrote the rest.
SPIKEY

WIKEY

WOO

(

HUM

&

DRUM

MIX

) / アイスベア
A new contribution from InklingBear herself comes to the game as

SPIKEY

WIKEY

WOO

(

HUM

&

DRUM

MIX

) arrives to the game. From InklingBear's album under this alias called "A bear joins the herd…" and a standout appearance on a tournament lineout called "Ponies Play

DDR

", it's definitely gonna leave you with more than just a mystery to solve with Spikey-Woo on your side. With charts written by the composer herself, they do pack quite a punch. Now go load up on some Scooby snacks and start solving those mysteries!
A Summer In The Stars (Aftermath Remix) / Forest Rain
Continuing our trend started with this game's launch, another song from the defunct PonyMania steppack has been adapted to TrotMania's standards. This time it's A Summer in the Stars (Aftermath Remix) by Forest Rain. This

EDM

remix is quite the unique take on the rollicking rock style of the original. These charts were originally written by Calena and were adapted by

RIME

.
Pyrosentric Songs
pinki! fun!! / Spott & Preamble / YourEnigma
2 tracks from the Pyrosentric Extra Stage system are now available for regular play! pinki! fun!! is a manic little hyper track that will trip you up with jump streams all written by InklingBear. Preamble is all about the streams, draining your stamina as bursts come in in the second half, written by InklingBear (Beginner/Basic) and C. Wiggers (Difficult-Challenge).
Extra Stage Song
Robot Pony / Progressive Element
The new normal Encore Extra Stage from last version has been both moved down to Extra Stage and made available for normal play. Robot Pony by Progressive Element throws every trick in the book to sap you of your lives from speed tricks, spins, and loads and loads of jumps! The charts were written by InklingBear and Woona❤ (Challenge) Of course this means there's a new Encore in town…I wonder what it is…
New Course
To help you enjoy Welcome to the Show at its fullest, try out the new Welcome to the Show medley! It…kinda speaks for itself.
Alterations
The following songs have had charts and/or sync changed:

FOREVER

, Miles, To the Sky [VIP Rework], Until the Sun
Friends are Always There for You (Remix) now has a new banner.
Concrete Temples (Club Mix) and Infrared now correctly display their background images when played.
The Extra Stages have been shifted for TrotMania Euphorius. Robot Pony is now ES and there is a new song as the Encore Extra Stage…
Check out the download for the update in the Downloads page on this site! Heads up: unlike last game, if you have not yet obtained Payload #2, you will need to download it before Payload #3: these patches are heavy!