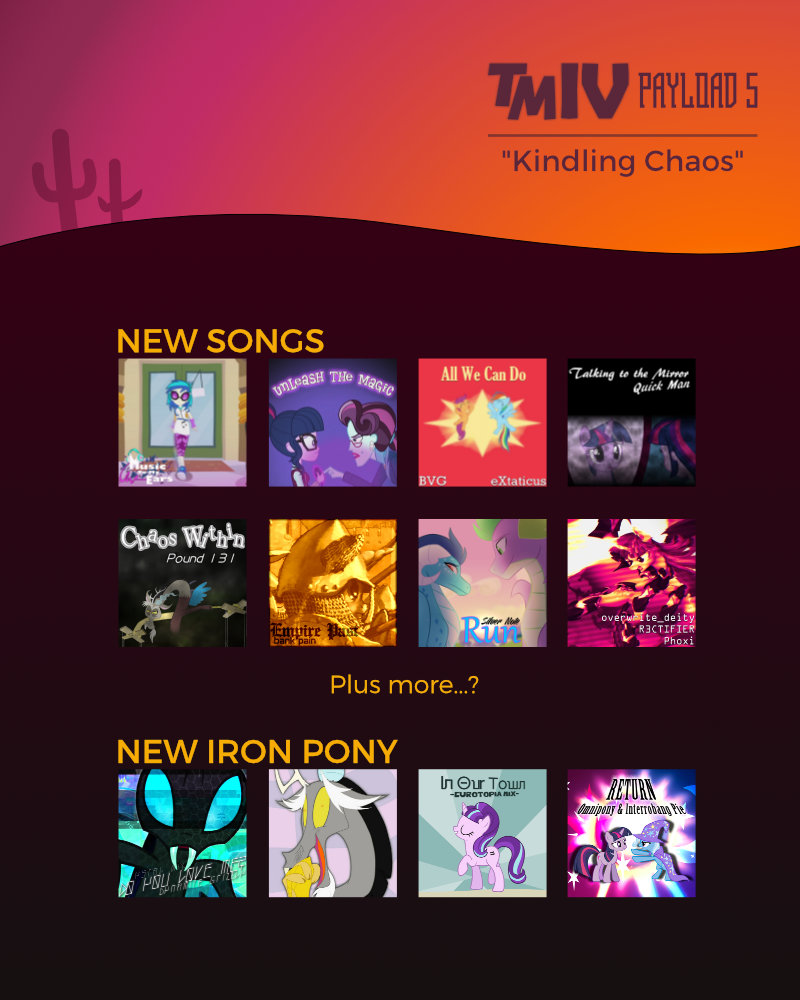 With our partners at PonyvilleFM celebrating their 7th anniversary, we thought it would be cool to give you guys the penultimate patch for our fourth title, loaded to the brim with tons of content!
New Songs
Music to My Ears and Unleash the Magic hail from the Equestria Girls series
We continue work with our partners from Zenius-I-Vanisher in getting crossovers from the indie electro scene. Up first is

BVG

, a eurobeat artist whose rearrangement of a piece by former pony artist eXtaticus appears in the game with All We Can Do. Then there's Quick Man, whose Talking to the Mirror provides some tense breakbeats to get your groove on to!
Pound 131, bank pain, R3CTIFIER with Phoxi, and Silver Note all make their debuts in the series with Chaos Within, Empire Past, overwrite_deity, and Run respectively.
PonyMania porting continues as DashStep by Baasik makes its debut in the TrotMania series. It is one of the harder standard bosses in the series, with a wicked level 17 Challenge chart to contend with!
The final Pyrosentric bosses, Mutate and

NIGHTWING

STIMUL8R, along with the

OMES

YANDANCER

, are now available for normal play!
However, that's not even close to the end, as there is a second Pyrosentric that begins now. Where the first had bosses in the moderate 15-16 range, this set pulls no punches, with several charts going hard into the 17 range. 4 existing tracks (Do You Love Me (Crystal Mix), Entropy (Sim Gretina Remix), In Our Town (Eurotopia Mix), and Return) have received new charts for this mode, and 4 other songs remain shrouded in mystery, perhaps more if you do well…
Changelog
Almost all applicable songs in Euphorius now have lyric files which will display timed in-game, courtesy of newly appointed TM dev "\\".
The following new charts have been added: In Our Town (Challenge 15), J2R (Expert 14), Come Alive (Challenge 14), To the Sky (Challenge 11 (SA)), Entropy (Sim Gretina Remix) (Challenge 16 (SA)), Return (Challenge 17), In Our Town (Eurotopia Mix) (Challenge 16), Do You Love Me (Crystal Mix) (Challenge 14).
Basashi has been altered significantly in terms of its cut and steps.
Vinylicious is now credited to Scraton and its graphic set has been changed to reflect this.
Spirit of Fire's background script from the Mod Lab pack is now part of its normal version.
Cloudsdale

EVOLVED

(all versions) has been cleaned up on Expert.
Good Girl (Sub.Sound Remix) is now Good Girl (JoinedTheHerd Remix) and its graphics have been redone (in higher resolution!) to reflect this.
Other minor improvements have been made across the board.
Regarding the Mod Lab
The Mod Lab pack is now part of the main patches! Note that they have received minor enhancements since their individual appearance with the last patch, along with new previews to help differentiate them from their normal counterparts.
Not to be outdone
The theme has also received its 1.5 update, which includes some fit and finish tweaks, the changes necessary to use the new Pyrosentric set correctly, as well as some, ahem, plot-related … things. The previous NoteSkin download has also been merged into the Theme bundle, and also has some new additions in the form of Equality2 (finally updated to match the appearance of the other noteskins as of TM4), and Horsemaniax.
Note to those who have older versions of the TM4 theme; due to the changes and optimizations in this release, it is highly recommended that you not overwrite an older version of the theme with this one, and that you just delete the older version and replace it with 1.5.
Download
These are temporary mirrors; the Downloads page will be updated with these downloads once our standard mirrors are up: